Meet Lorenza Tupaz
Financial Analyst Program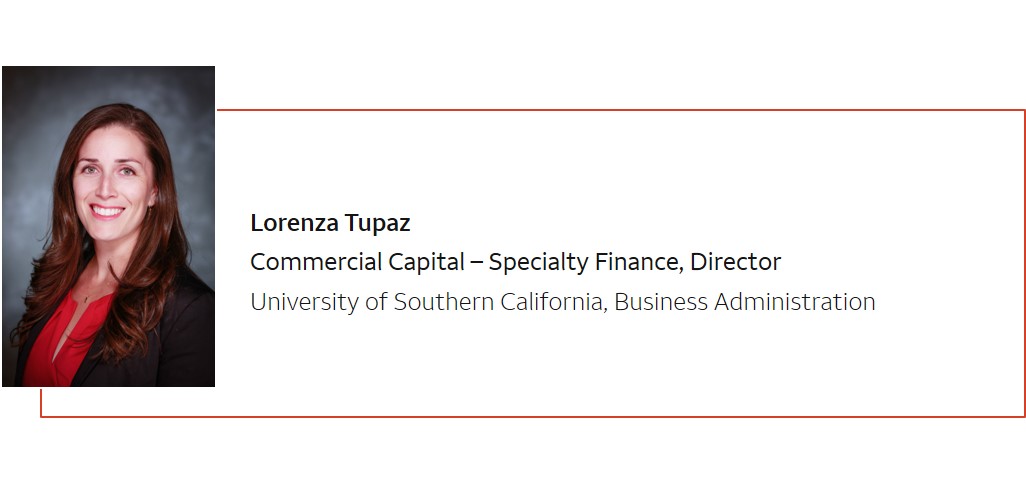 The Past: "How did you get here?"
What distinguished Wells Fargo from other competitors, as a professional opportunity for you?
Wells Fargo has a strong, well-known presence on the West Coast. I was attracted to the training programs offered to help with my development. The Financial Analyst training program provided various career paths and support on how to get there. Many of Wells Fargo's competitors did not have such formalized training programs. Wells Fargo conveyed a sense that it cared more about its team members relative to its competitors.
The Present: "What do you do here?"
What is a typical work day like for you?
My days are typically full of many meetings. I have one-on-ones with my team to check-in or to discuss development opportunities, I'm coordinating and attending meetings to discuss process improvements and changes, assisting with analyst and intern questions and concerns, meeting with management on new initiatives, or participating in Corporate Banking or Wholesale Banking committees. When not in meetings, I'm strategizing team coverage and support, thinking through and developing effective processes for the group, assisting with recruiting efforts, and identifying supplemental training specific to Restaurant Finance.
What was your most enjoyable project at Wells Fargo? Why?
Working on the Burger King acquisition of Tim Horton's in 2014. It is the largest transaction Corporate Banking - Restaurant Finance has been a part of. It was highly confidential and high profile, complex, and involved many layers of discussion and approval up the credit chain with some involvement by both the CEO and CFO.
What are the top three skills (technical and soft) that are required, daily, in your role?
· Having a good base knowledge of credit and underwriting in the Restaurant sector. This allows me to be an effective and supplemental resource to my team. I'm able to direct my team to appropriate individuals to seek out answers. If I still don't have the answers, I have the experience to know how to seek out the answers for my team.
· An ability to work effectively with others. I have to connect various teams together and provide a knowledge bridge between them to help identify effective processes.
· Good problem solving skills and follow through on those solutions
How would you describe the corporate culture of your group?
Fun and casual, but we get also down to business and get our work done. We're in a very team-oriented and cohesive environment. Everyone is friendly and gets along well. Team members enjoy the people around them.
The Future: "Where do you want to go?"
What future opportunities do you hope to embark on in your career? Does Wells Fargo provide avenues to foster these goals?
I recently made the transition into management (nearly a year ago) from previously covering a portfolio and being involved with client-facing activities and transactions. Wells Fargo provided that opportunity to focus and develop a different skill set, i.e. management, but it was my hard work, strong performance, and going above and beyond my roles that allowed me to get that promotion.
I hope to continue perfecting and developing my abilities to lead, develop, and motivate my team to success. I will also continue to evaluate what I enjoy about my role and my career and identify future career opportunities that align accordingly via open dialogue with my management and by staying curious and inquisitive about careers within the organization.
Wells Fargo provided the Financial Analyst Program and the Credit Management training programs that naturally set me (and others) up for continued development and career growth and movement. All my managers were supportive of my career goals and tried to provide various opportunities to work on those skills that helped me achieve them.
Advice: A word to the wise…
A motivational piece of advice you wish someone told you as a young professional going into your specific industry?
The harder you work, the easier it gets. Learning new things is always challenging and can be nerve-racking, but I assure you it will get easier because you will get better.
A professional piece of advice you wish someone told you as a young professional going into your specific industry?
Going above and beyond your defined role is what will lead you to progress in your career. If you want to get ahead think bigger than your role. Any job will have a defined description and set of expectations, but it's those individuals who think beyond what their role is and take on tasks that help the larger process at hand, who are presented with opportunities for growth and career advancement.
Seek out mentors and advocates. Start early and throughout your whole career. While working hard to produce quality work and going above and beyond is important for career progression, it's just as important for someone to be advocating to management about your good work and accomplishments. Otherwise, it may remain unseen by management.
Helpful Resources
Learn more about the Application Process
Back to University Programs Home Page
Click link to Meet our Team Members