Meet Marten Lai
Financial Analyst Program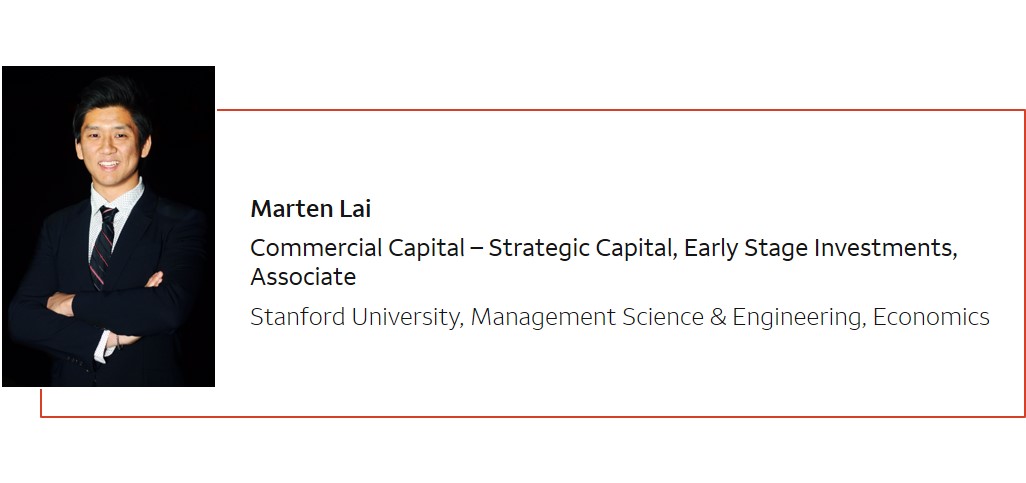 The Past: "How did you get here?"
What distinguished Wells Fargo from other competitors, as a professional opportunity for you?
Wells Fargo stood out to me as a place that emphasized learning and development. When I graduated, I had decided to work in the financial sector but had little experience beyond taking a few finance and accounting courses in college. I knew I needed more training and resources, and I saw Wells Fargo as a place that could provide these things and invest in me.
The Present: "What do you do here?"
What is a typical work day like for you?
A typical work day involves conducting due diligence on prospective investments. This includes writing investment memos, discussions with management, market research, and conducting customer reference calls.
What was your most enjoyable project at Wells Fargo? Why?
My most enjoyable project was the opportunity to work on Flexport's Series C round of financing. I learned about the freight forwarding industry (which I previously knew nothing about), and witnessed how Flexport was transforming the industry with software. This round was also one of the most competitive rounds in 2017, and getting allocation to invest was a huge win for the group.
What are the top three skills (technical and soft) that are required, daily, in your role?
Excellent verbal, written, and interpersonal communication skills; financial modeling and analysis; team player mentality.
How would you describe the corporate culture of your group?
Because our team is relatively small and spends a lot of time together, the corporate culture of our group is similar to a family. We know each other very well, we constantly tease each other about our quirks and habits, and we even respond to our nicknames. My nickname is "the hair".
The Future: "Where do you want to go?"
What future opportunities do you hope to embark on in your career? Does Wells Fargo provide avenues to foster these goals?
I want to stay active in the venture capital space and work towards an opportunity to be a lead partner on a deal. My line of business and my team provide me the opportunities to achieve both. Throughout my week, I get the opportunity to see a lot of different companies and interact with various founders and investors, providing me with great constant exposure to the venture industry. My team is also comprised of multiple venture industry veterans, all of whom I can emulate and seek for mentorship.
Advice: A word to the wise…
A motivational piece of advice you wish someone told you as a young professional going into your specific industry?
Learn to run your own race. In a world where everyone's lives are an infinite display of accolades, achievements, and accomplishments, it is easy to constantly compare yourself to others. Focus on your incremental development and you will end up much more fulfilled, regardless of what you do.
A professional piece of advice you wish someone told you as a young professional going into your specific industry?
Over time I learned that, unlike the constant resources and access to learning available in college, outside of school, I had to take responsibility for my growth of knowledge. In the beginning, I was usually the most inexperienced person in the room, and I wish I hadn't let that insecurity inhibit me from asking questions earlier. I definitely had a hesitancy to speak up primarily because I was afraid of how people would perceive me, but looking back, that was an opportunity for me to grow even more by simply being more inquisitive. If I could emphasize anything, it is to use other peoples' experience and expertise to your advantage.
Helpful Resources
Learn more about the Application Process
Back to University Programs Home Page
Click link to Meet our Team Members