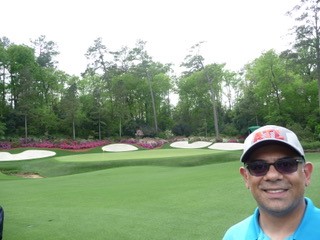 Riaz Hameed, Wells Fargo Portfolio Manager
One-of-a-kind investment strategy
As a dreamcatcher of sorts, Riaz Hameed brings a commanding, intense, and driven approach to building wealth for his clients.
His strategy is not one-size-fits-all.
"I'm like a custom home builder, he says. "I'm going to build your custom dream portfolio, which speaks to you and [is] in line with your estate plan and other long term plans."
Riaz is a senior portfolio manager located in a Wells Fargo Private Bank office in Atlanta, Georgia. He manages portfolios for institutions, companies, and foundations worth $5 million or more. His largest client relationship is $80 million to $90 million. In total, he manages $2.2 billion dollars for roughly 100 clients.
Childhood dreams become a reality
Riaz didn't have to look far for inspiration. As a child, he watched his father work as an investor for a sovereign wealth firm in Abu Dhabi in the 1980s and 1990s. His father's career sparked his powerful curiosity in investing. That curiosity grew into a lifelong career as a portfolio manager for ultra-high-net-worth clients.
Keeping his clients grounded, and, in many cases, providing lifelong financial advice, has been a hallmark of his 30-year career as a wealth investment manager. Despite seeing a lot of changes through multiple bank mergers, he says designing and managing his clients' portfolios has always been his priority.
Riaz describes himself as a numbers man. Early on, he received his undergraduate degree in mathematics from University of Madras in India, an MBA from University of North FL, and the Chartered Financial Analyst® designation.
He splits his time closing business and managing his clients' portfolios using the banks' strategic and his tactical views of the world and the markets. Not only does he personally manage client portfolios, but he also manages compliance and risk management, account trading, and he monitors market events. This includes research on the overall economy, including the stock and bond markets, currency, commodities, real estate markets, and alternative strategies.
Building relationships that last
Riaz is proud of the longstanding relationships he has built over a lifetime. Out of 100 clients, at least 20 have been with him for more than 15 years.
"It's very satisfying to build something, manage it and see it through," he says. "I've had clients with little kids who are now in college or gotten married and many of those experiences have come from funds I manage … and the gains we've made for them."
The freedom to work from anywhere
Other aspects Riaz loves about his job are the supportive work environment and flexible work schedule, which allow for more time with his family and friends. When it comes to meeting clients, he meets them where they are.
"We're in their house visiting with them, eating with them, or even sometimes playing golf. So, we're mostly out of the office," he says.
Riaz encourages those interested in an exciting, challenging career as a portfolio manager to consider Wells Fargo.
"I find a lot of satisfaction staying here," he adds. "The job is simple but powerful and impactful: Take care of your clients. That's what we're here for."
Apply now
Are you looking for new ways to jumpstart your career? Consider a career as a portfolio manager at Wells Fargo. Apply at wellsfargojobs.com and join the Talent Community, a handy resource offering timely updates and job alerts associated with your profile.