Meet Daniel Weingard
Quantitative Associate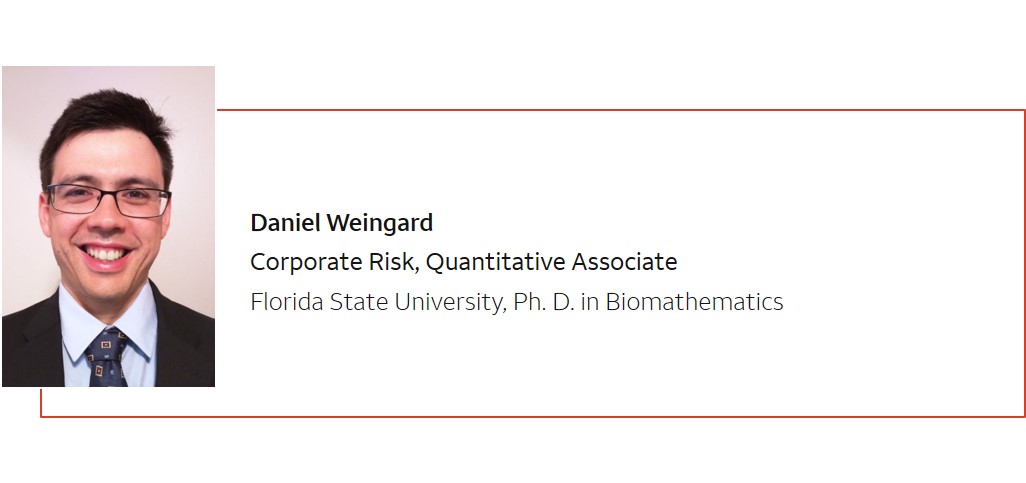 The Past: "How did you get here?"
What distinguished Wells Fargo from other competitors, as a professional opportunity for you?
I was attracted to Wells Fargo's Quantitative Associate (QA) program, which I joined. The program was advertised to have substantial training and a chance to rotate between different groups. As someone new to finance, I valued the training period. Wells Fargo and most of its competitors are huge firms and each group within a firm can have its own culture. I thought the QA program would give me a chance to find a group that fits me well.
The Present: "What do you do here?"
What is a typical work day like for you?
In a typical day, I work from 9:00 a.m. to 6:00 p.m. The first step in validating a model is reading the model document and learning all you can about it. After that, I have to check that the theoretical framework and the model outputs make sense. Depending on the project, I may implement a competing model.
What was your most enjoyable project at Wells Fargo? Why?
My most enjoyable project was a validation project where I implemented a competitor interest rate model. I was new to interest rates and I ended up learning a lot about the underlying theory and implementation of interest rate models.
What are the top three skills (technical and soft) that are required, daily, in your role?
The top three skills that are required would be mathematics, programming, and knowing how to identify the right question to ask.
How would you describe the corporate culture of your group?
The corporate culture of my group is laid back and supportive. The deadlines I have usually give me enough time to do thorough work at my own pace. At the same time, I find I can always go to my boss or other group members for help when I'm stuck.
The Future: "Where do you want to go?"
What future opportunities do you hope to embark on in your career? Does Wells Fargo provide avenues to foster these goals?
I hope to continue to improve my technical and communication skills. I have found that the more senior validators are willing to teach me new math and programming techniques. In addition, Wells Fargo offers professional development courses including one in public speaking that I attended in April. When I become more experienced, I'd like to mentor people in the same position I'm in now. Wells Fargo has many mentorship programs, and I hope I can continue to participate as I continue down my career path.
Advice: A word to the wise…
A motivational piece of advice you wish someone told you as a young professional going into your specific industry?
Mathematical modeling has a huge impact in financial industry. There are few financial experiments, so models are very important in asset pricing and risk analysis. Quantitative finance is a field where you can leverage your technical background to give a strong contribution.
A professional piece of advice you wish someone told you as a young professional going into your specific industry?
Take initiative as far as the type of work you want to do. Even if a project is out of the scope of your current role, it's worth showing interest and asking how you can get involved.
Helpful Resources
Learn more about the Application Process
Back to University Programs Home Page
Click link to Meet our Team Members