Meet Victoria Crawford
Corporate Risk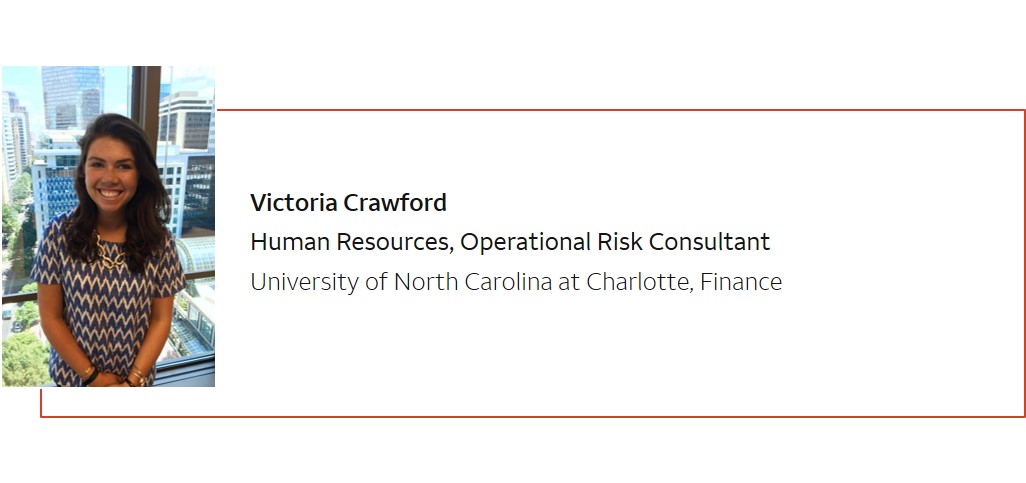 The Past: "How did you get here?"
What distinguished Wells Fargo from other competitors, as a professional opportunity for you?
After doing some research I realized that Wells Fargo's culture would be a great fit for me. I liked that they valued their team members and really wanted to help them further their careers.
The Present: "What do you do here?"
What is a typical work day like for you?
My day starts out by reviewing my to-do list from the previous day, I set my priorities and refresh myself on my upcoming meetings that will take place. On Fridays, I have the last hour of my day blocked out to organize my email and add my weekly accomplishments to my accomplishment worksheet which becomes very useful during performance review time.
What was your most enjoyable project at Wells Fargo? Why?
My favorite assignment thus far has been completing the RCSA (Risk Control Self-Assessment) this is completed by reviewing key risk areas to see if they apply to the businesses, then rate the frequency and severity. The most recent task that I have taken on is to help coordinate a rotational program within our groups for the interns. This has been very enjoyable to me because I have been able to interview, coordinate, and onboard the interns and help improve the program and experience for them overall.
What are the top three skills (technical and soft) that are required, daily, in your role?
I would say influencing others, patience, and communication skills.
How would you describe the corporate culture of your group?
The culture is very people-oriented. You have to be able to build trusting relationships within the business in order to have a good working relationship. I have also learned that it is easier to get tasks done if you are able to work together efficiently.
The Future: "Where do you want to go?"
What future opportunities do you hope to embark on in your career? Does Wells Fargo provide avenues to foster these goals?
I want to get certified and deepen my expertise in risk management. Wells Fargo has multiple training courses and can support this financially. In addition, other team members are always willing to help educate me along the way.
Advice: A word to the wise…
A motivational piece of advice you wish someone told you as a young professional going into your specific industry?
That change will happen. You have to be flexible.
A professional piece of advice you wish someone told you as a young professional going into your specific industry?
Network, network, network! I have found that the relationships you build with other team members can really help you in your career.
Helpful Resources
Learn more about the Application Process
Back to Univrsity Programs Home Page
Click link to Meet our Team Members