Meet Alexzander Williams
Technology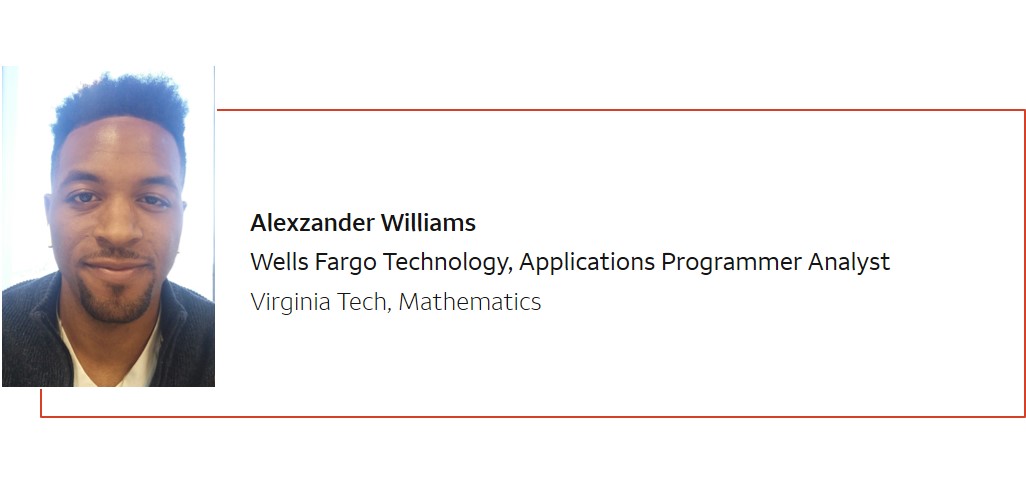 The Past: "How did you get here?"
What distinguished Wells Fargo from other competitors, as a professional opportunity for you?
The biggest thing that distinguished Wells Fargo from other competitors was the company culture that I walked into, along with the excellent coworkers employed by the company. Knowing that you work for a company that not only wants you to reach your full potential but cares about helping you too is truly an amazing feeling.
The Present: "What do you do here?"
What is a typical work day like for you?
My days generally start the same, assuming no urgent issues have come up since the end of the previous day. I come in and check my email and then do an informal check-in with some of my team members to hear what they are working on, ask questions I have from the previous day or just get updates on future projects. Then, I get to work — either developing/testing or designing whatever functionality I am working on for that day. Throughout the day I make sure to converse with my team, take a lunch break, respond to emails, go outside for some fresh air. I make sure I'm saving my work throughout so I do not lose anything!
What was your most enjoyable project at Wells Fargo? Why?
My most enjoyable project had to be a web application that I developed for ATMS (Automated Trade Management System). It was a web app designed for a user to come in and create a custom client configuration template that would allow our clients to send all their trade information for the day in whichever format they want. My application would, then, churn out a correctly formatted and preprocessed file to be sent down stream. It was the most enjoyable for me because it was one of the hardest projects I had taken on at that point in my career and I learned tremendously from the experience.
What are the top three skills (technical and soft) that are required, daily, in your role?
Verbal Communication, not only with team members but also with clients we are developing to ensure the best product is delivered.

Firm knowledge base in .NET framework along with C# development and comfortable understanding of JavaScript development.

Ability to critically think through problems and scenarios every day and from multiple different points of view to insure that we are not just developing code that works but code that is smart, efficient, and most of all secure.
How would you describe the corporate culture of your group?
The corporate culture of my group is one of mutual professional respect and friendliness. I work in a direct team of four team members, including myself. Any one of us is willing to help the other, but most importantly, we make sure that we all understand the resolutions to problems that occur during development, design or planning sessions.
The Future: "Where do you want to go?"
What future opportunities do you hope to embark on in your career? Does Wells Fargo provide avenues to foster these goals?
My future goal as it stands right now is to become a Technology Manager. Wells Fargo does not directly provide avenues to this path for me but they certainly give me all the tools and resources to hone my skills, make lifelong connections and experience learning from all sorts of managers throughout the company.
Advice: A word to the wise…
A motivational piece of advice you wish someone told you as a young professional going into your specific industry?
You are stronger than your challenges and your challenges are making you stronger.
A professional piece of advice you wish someone told you as a young professional going into your specific industry?
The more diverse your skill set, not only in technology but in the business as well, the more invaluable you are to the company.
Helpful Resources
Learn more about the Application Process
Back to University Programs Home Page
Click link to Meet our Team Members