Meet Conrad Adam
Wealth & Investment Management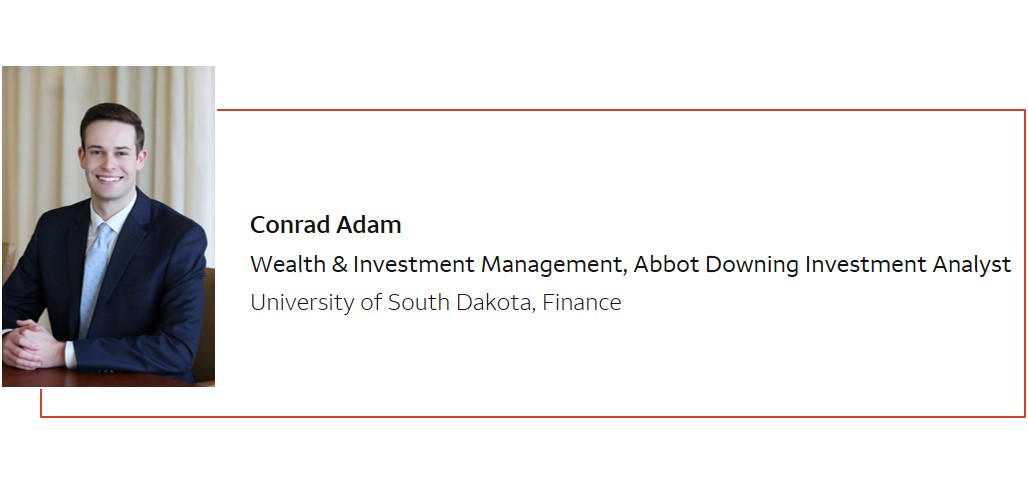 ​
The Past: "How did you get here?"
What distinguished Wells Fargo from other competitors, as a professional opportunity for you?
Wells Fargo is home to a vast opportunity set, with a long-standing commitment to professional development. The reach and network of individuals tied to this business is endless. For me, one of the most eye-opening qualities of Wells Fargo is the level of investment in career development. From comprehensive University Programs to continuing education, Wells Fargo promotes an environment of opportunity and growth.
The Present: "What do you do here?"
What is a typical work day like for you?
As an Investment Analyst supporting a team of foundation and endowment asset managers, my role varies each day. My current position allows for exposure to the complexities of institutional and ultra-high-net-worth wealth management. In this role, I execute daily portfolio allocation reviews, market driven opportunity research, and various client support duties.
What was your most enjoyable project at Wells Fargo? Why?
The most enjoyable project that I have participated in was an alternative investment research project. In serving the asset management needs of large institutional portfolios, we allocate dollars across four asset classes - equities, fixed income, real assets and alternative investments. The alternative investment project was an opportunity to better understand the role of the asset class in the context of the total portfolio.
What are the top three skills (technical and soft) that are required, daily, in your role?
The top three necessary skills would be effective communication skills, efficient time management abilities, and continual development of investment acumen.
How would you describe the corporate culture of your group?
The culture of my group is collaborative and welcoming. Colleagues are always willing to lend a helping hand to fellow group members and across other lines of business. The team is committed to putting clients' needs at the forefront of our daily work, and the strong work ethic is contagious throughout. The high-level of trust allows for a comfortable work-life balance, which appears to be a common theme across the firm.
The Future: "Where do you want to go?"
What future opportunities do you hope to embark on in your career? Does Wells Fargo provide avenues to foster these goals?
In the future, I hope to continue a career with Asset Management. Finance is an industry that particularly excites me, and having the ability to navigate those waters daily makes my work all the more thrilling. The challenges of investment management coupled with the reward in serving clients makes for meaningful work. Wells Fargo offers many avenues to not only foster such aspirations, but also provides significant opportunities for growth.
Advice: A word to the wise…
A motivational piece of advice you wish someone told you as a young professional going into your specific industry?
Be patient! In a world filled with instant gratification, it is easy to get caught up in daily desires.
A professional piece of advice you wish someone told you as a young professional going into your specific industry?
Find meaning in your work. Every organization has opportunities to get involved within and outside of your daily tasks. Do not be afraid to raise your hand and take on responsibilities that others may overlook. Extend your professional presence outside of your office walls. Business leaders also happen to be community leaders.

Helpful Resources

Learn more about the Application Process

Back to University Programs Home Page

Click link to Meet our Team Members